Dedicated Home Theaters
A Dedicated Home Theater is the ultimate place for you, your family and friends to relive the fantasy, romance and adventure recreated by the true cinema experience. Whether you're looking for amusement or seeking refuge from your daily routine your dedicated home theater is the perfect destination.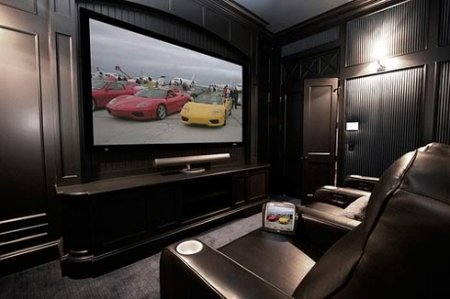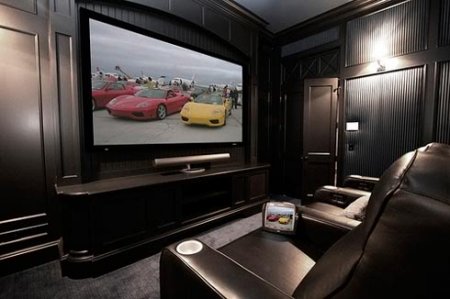 Many people would like you to believe that placing or hanging a big screen TV in an enclosed spare room with a couch and/or easy chair is the definition of a dedicated home theater.
Dedicated to watching movies, major sporting events and gaming
Includes acoustical sound treatments and controlled lighting
High definition large sized TV and/or movie projector and screen
Gramophone Home Theater's Definition Of A Dedicated Home Theater is a room that has been dedicated and designed for the primary purpose of viewing movies, watching major sporting events and gaming. This theater room would include: acoustical treatments and soundproofing (if necessary), a high definition large sized TV and/or movie projector and screen, expertly placed home theater surround speakers and subwoofers, matching audio and video electronics, controlled lighting and a learning remote control device. The Dedicated Home Theater actually delivers "The Live Sporting Event" and "True Full Dimensional Digital Movie Theater Cinema Experience" directly into your home.
There are six major categories that define the Dedicated Home Theater Design and Building Process
These categories include:
1 Primary Use and Performance Expectations
2 Room Dimensions, Floor Plan Layout and Room Acoustics and Treatments
3 Audio and Video Surround System
4 Interior Design and Theater Seating
5 Controlled Lighting and Remote Control Devices
6 Sound Isolation and Recommended Sound Isolation Building Materials and Products
1. Primary Use and Performance Expectations
Primary Use
The first question to answer in the Primary Use category is, who's going to use the theater?
Gramophone Home Theater can design a small intimate theater for your immediate family, a comfortable medium size theater for your immediate family and close personal friends or a larger spacious theater environment for larger groups of family and/or social friends. Just let us know which best suits your needs.
The second question to answer is, what are they going to view, play and listen to?
If you, your family and friends are interested in:
A. Viewing?
1. Pictures of your family and friends, celebrations and special events, vacation adventures or images in your photo art collection
2. TV programming including broadcast, cable or internet television
3. Made for TV, classical or current 4K widescreen Cinemascope movies
B. Playing?
1. Family, interactive action/adventure or simulated virtual reality games
C. Listening?
1. MTV type music videos and rare and memorable concert music video productions
2. Simulcast musical and sporting events
3. Special rock, jazz and classical multi-channel music recordings
We can accommodate any and/or all of your viewing, gaming and listening requirements.
Performance Expectations
Once you have defined the primary use of your theater it's time to address your performance expectations. Whether you're looking for the performance experience of a smaller art film theater, a larger upscale wide screened digital theater or a fully licensed THX and Dolby Digital surround auditorium sized theater with a large wide curved Cinemascope screen, we can meet your expectations and fulfill your dreams. The size of a particular dedicated theater does not, in itself, dictate or limit that theater's performance capabilities, therefore, whatever theater size you choose, we can recreate and deliver the theater experience that you desire.
2. Room Dimensions, Floor Plan Layout and Room Acoustics and Treatments
Room Dimensions
What is the most influential component in any home theater? In actuality, it is the room itself.
Room Size, Structure and Surface Materials play the largest role in determining your theaters audio performance. All room dimensions are different, so a guaranteed recipe for success doesn't exist. However, it is relatively easy to avoid the worst room resonance problems. Generally, rectangular rooms are good for sound and tend to be easy to work with. In perfectly rectangular rooms, the resonances can be calculated with good accuracy so that, if there is a problem, we have a chance of identifying what is causing it, and easily fixing it. However, irregular and exotic shaped spaces tend to be more problematic. Unfortunately, the spaces available in the average home for a dedicated theater may be limited; therefore, an ideal sized room may not be attainable.
By referencing industry guidelines like THX (a high-fidelity audio/video reproduction standard for movie theaters, screening rooms and home theaters developed by Lucasfilm Ltd.), Gramophone Home Theater will help you determine the room dimensions that are most favorable for your proposed dedicated theater.
Floor Plan Layout
Our Floor Plan Layout will address issues such as sightlines, prime seating locations including two rows of theater seating and an 8 to 12 inch riser and seating platform, ideal speaker placement, optimally sized and positioned screen and projector, location of audio/video equipment and proper ingress and egress.
Room Acoustics and Treatments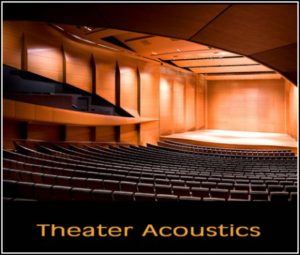 All of us have had the experience of standing in a totally empty reverberant room. This is an experience in "untamed acoustics". Sounds are extremely live as they reflect and reverberate. Clap your hands and the impact is repeated hundreds of times, as the sound is reflected among the hard and flat room surfaces. Places take on an artificial "richness" in the lower frequencies and accuracy and definition are reduced as each sound is prolonged by overactive reverberation. Acoustical Treatments affect the sounds that are reflecting off the boundaries of the room. Acoustic treatment within a room is designed to react with sound to accomplish one or all of the following things: absorbing, reflecting or diffusing. Absorption is used to absorb unwanted reflections from the front speakers off walls and ceilings. These reflections often cause an audible echo or a smearing of the movies dialog. Reflective and Diffusive elements act as reflectors to sound waves coming from speakers in the surround field. In general, a smooth integration of these three elements is required to create the proper balance of sound in your theater. Acoustic treatments in theaters are classified by an NRC rating (Noise Reduction Coefficient) which is a measure of the amount of sound energy that a surface absorbs when struck by that sound energy. Unfortunately, it is very common in our industry to find so called theater experts designing theaters that are overly dampened. This often creates a dead sensation much like sitting in a black hole in the universe. The goal should be to make the room neither too live nor too dead. A happy medium is the objective.
When properly applied, acoustical treatments are an important component in a professionally designed dedicated home theater. Therefore, our design engineers will work with you and your interior designer in order to achieve the sound performance and design style and theme that you desire.
Our goal is to deliver a high quality theater surround experience to every seat in your theater. While it is virtually impossible to make every seat "the best seat in the house", we strive to ensure that every seat location sounds authentic.
3. Audio and Video Surround System
Now it's the time to make your Audio and Video Component and Surround Speaker System selections. Generally, these selections are based upon room dimensions, performance expectations and budgets.
Unfortunately, even after the performance expectations have been clearly defined, the room dimensions (cubic area) will still have a major impact on equipment selections and budgets. As an example, an intimate high performance theater will use a smaller screen, a projector with less light output, less expensive optics, fewer speakers and subwoofers (5.1 System: 5-speakers and 1-subwoofer), a reduced need for amplifier power output and less surround sound processing than a larger theater with similar performance requirements. Therefore, the cost to properly setup a smaller theater is significantly less than the cost to outfit a larger theater.
Conversely, the larger the theater the greater the screen size and projector light output, the need for better optics (to accommodate the larger screen size and the longer throw distance), more speakers and subwoofers (7.1 System: 7-speakers and 1-subwoofer to a 9.2 System: 9-speakers and 2-subwoofers), additional amplifier channels with increased power output, a more sophisticated surround sound processor, the possible need for higher end video sources and a much larger budget.
Therefore, whether you're looking for a small intimate theater, a comfortable mid sized theater or a large spacious theater, the design team at Gramophone Home Theater will recommend an Audio and Video Surround System that's right for your dedicated theater.
4. Interior Design and Theater Seating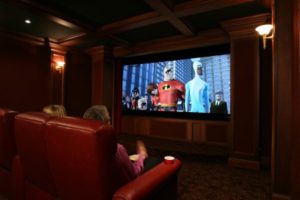 Interior Design
The Interior Design Category includes the following design elements:
1. Theater Design Style or Theme:
2. Custom Cabinetry. Speaker Enclosures and Architectural Decorative Elements
3. Acoustical Wall and Ceiling Panel Fabric Coverings and Frames
4. Special Ceiling and Wall Effects
5. Curtain, Drapery and Valance Textiles
6. Carpeting and Flooring
7. Paint Colors and Wood Stain Finishes and much more.
1. Theater Design Style or Theme
The First Step in this process is to decide on the Design Style or Theme that best reflects the environment that you would like to recreate. Whether you prefer traditional, contemporary, modern or even futuristic theater design Gramophone Home Theater can create the theater architecture that's right for you and your family.
Dedicated Theater Themes
Dedicated theater themes can be wide ranging. As an example: you can explore the Dark Continent with its luscious jungle landscapes from an African Theater, visit Ancient Rome and view the majestic Italian countryside from a columned Roman Theater, experience the Big City and views of the New York City skyline from a Cityscape Theater, transport yourself through the Universe while floating through the Milky Way in the SS Enterprise Star Ship in an Outer Space-scape Theater or relax and enjoy the plush cinema atmosphere in a Traditional Themed Theater with ornate gold leaf and marble columns, coffered ceiling, balconies, chandeliers and adorned with red velvet.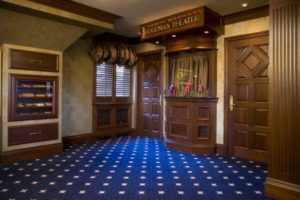 Theater Lobbies
Theater themes may include: Theater Lobbies, Personalized Marquees, Ticket Booths, Snack Bars, Candy and Popcorn Displays, Framed "Coming Soon" or "Now Showing" posters, ect.
Expanded Theater Themes
Theater themes can be expanded to include larger Home Entertainment Areas, and can even be designed to recreate a narrow Italian Street with a Piazza and a Roman Theater or an English Gas Lit Cobble Stone Lane with a Pub, Snooker Hall, Gymnasium and Movie Cinema.
The possibilities for your dedicated home theater are only limited by your imagination. The theater experts from Gramophone Home Theater have been designing and building dedicated home theaters for over 40 years. They have the knowledge and expertise to recreate and deliver the cinema experience you've always dreamed about.
2. Custom Cabinetry, Speaker Enclosures and Architectural Decorative Elements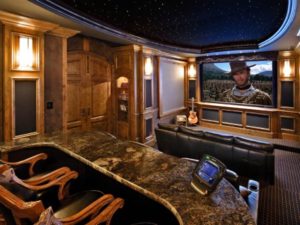 Compliment and Enhance your Design Style
Gramophone Home Theater offers a wide variety of Custom Cabinetry, Speaker Enclosures and Architectural Decorative Elements to complement and enhance the design style and theme of any theater.
3. Acoustical Wall and Ceiling Panel Fabric Coverings and Frames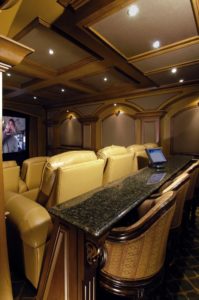 Enhance your Décor
Because Acoustical Treatments are necessary in most theater spaces, we believe that they should enhance the décor of your theater. Therefore, we have hundreds of wall and ceiling panel fabric coverings to choose from and we offer a large selection of panel frames to match.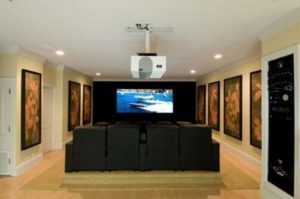 A Higher Plateau
Gramophone Home Theater has taken acoustic panel décor to a higher plateau, allowing you to personalize panels without any loss of sound fidelity. We can also enhance and personalize the acoustical panels in your theater with movie images, family portraits, fine artworks or even unique images designed specifically for your pleasure.
4. Special Ceiling and Wall Effects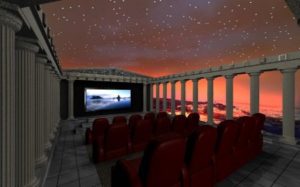 Character and Depth
The ceiling and wall designs in your theater should complement your theater's décor and theme while providing character and depth. Therefore, Gramophone Home Theater offers a number of Special Ceiling and Wall Effects that go beyond architectural décor and structure. A few examples of these are a Starlight Celestial Ceiling with twinkling and shooting star patterns, a fiber optic or LED Outdoor Sky that changes to feature different times of the day or evening, or using theater-scape technology we can recreate the imagery of any theater theme including a futuristic view of the Universe and the Milky Way in an Outer space-scape, the New York City skyline in a Cityscape and the Italian countryside in a scenic Outdoor-scape.
5. Curtain, Drapery and Valance Textiles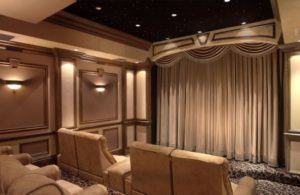 Dramatic Impact
Curtains, Draperies and Valances can add a luxurious and dramatic impact to your theaters' décor. Whatever the fabric style, finish or color that you desire, we have the velour, wool and cotton textiles to reproduce it.
6. Carpeting and Flooring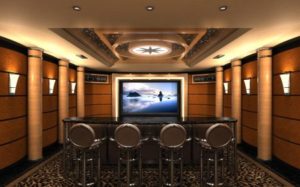 The Perfect Compliment
Carpeting and Flooring can be the perfect compliment to a well-designed theater. Whatever your design theme, pattern, color or finish, we have you covered.
7. Paint Colors and Wood Stain Finishes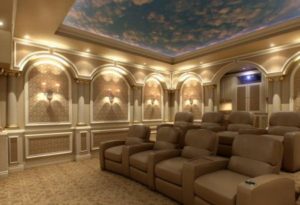 Flawless Matching
The final touch, like a painter's pallet, is the flawless matching of paint colors and wood stain finishes necessary to complete your Mona Lisa. With over 40 years of experience designing and building "Dedicated Home Theaters" Gramophone Home Theater has the paint colors and wood stain finishes to match any specification.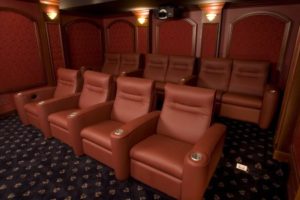 Theater Seating
An Important Step in the theater design process is selecting the theater seating arrangement that best complements your theater and your family's lifestyle. Reclining theater chairs are available in manual or motorized versions. These chairs can be purchased to operate independently with separate arms or joined together as loveseats, couches, or in a mixture of configurations. Theater sectionals with chaise lounges can also be used in many theater-seating arrangements.
Our theater seating vendors offer a wide variety of furniture styles that have been manufactured to coordinate with and complement most home theater design themes. They offer a broad array of leather grades and fabric materials with hundreds of color samples. And, in the event that our seating vendors are unable to accommodate our customers design requests, Gramophone Home Theater will custom design, build and/or special order the theater furniture and materials that will satisfy our customers needs and desires.
The Final Step in the interior design and theater-seating category is to review and confirm that the interior design plan does not compromise the visual and acoustical performance of your theater.
5. Controlled Lighting and Remote Control Devices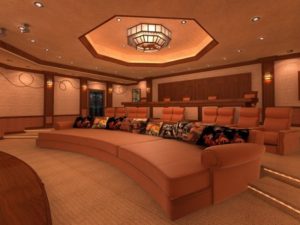 Controlled Lighting should include:
a. Recessed Lights and/or Track Lighting:
These lighting types are most commonly used for general and accent lighting purposes.
b. Step and Aisle Lighting:
These lights are needed to create a safe path when walking through or changing levels in your theater.
c. Sconces and Other Accent Mood Lighting:
Although not a necessity, this lighting can help to authenticate and enhance the ambiance in your theater
d. Themed Lighting:
This form of lighting includes backlit scenery, Starlight Ceilings, Theaterscapes and other Innovative Illuminations. These custom lighting designs are used to create a special feeling and effect that can produce a dramatic impact on the atmosphere in your theater.
These different types of theater lighting elements should be integrated by programming them into harmonious lighting scenes, this is known as Controlled Lighting. These programmed lighting scenes can be initiated by a handheld, in-wall or tabletop remote control device.
Remote Control Devices
Remote Control Devices are an important component in any home theater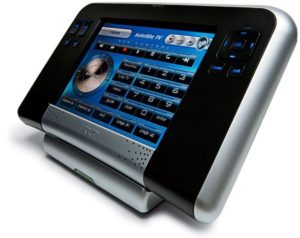 Total Control at your Fingertips
These devices are recommended and are useful in programming commands to control lighting, electric theater screens and masking, motorized drapery and blinds, automated projector lifts, projectors and mechanical lenses and audio/video equipment. Total control is always at your fingertips using a programmable handheld remote control, backlit keypad, color touch screen control, iPhone or iPad.
6. Sound Isolation and Recommended Sound Isolation Building Materials and Products
Sound Isolation
Sound Isolation, or as some might call it sound – proofing, is often the most underestimated aspect of acoustical treatment for a home theater. Many believe that by adding acoustic panels to the walls and or ceiling, all sound can be stopped from entering or exiting the theater space. This is untrue. Acoustical panels only provide noise control, which refers to treating noise from within a space. Sound Isolation refers to limiting how much noise reaches into the room from the outside and how much of the sound in the room leaks to the outside. A well-isolated space must address both Sound Transmission and Impact Resonance.
Sound Transmission
Sounds that leave the theater are generally low frequency waves coming from the subwoofer or any speaker with a low crossover point. Since the shapes of these waves are wide with a broad dispersion pattern, they are able to travel well beyond a 2×4 wall structure covered with drywall. The act of sound traveling through a substrate material is called sound transmission and the strength in which the sound passes through a material is measured by a rating called STC (Sound Transmission Class). Sound – proofing products are measured by the STC rating which is quantifying how well a wall can isolate sound. The STC actually measures the decibel reduction that a partition can provide.
Impact Resonance
The most conflicting sound that enters the theater space is known as footfall. This takes place when someone is walking on a floor above the home theater room and the energy from their footsteps is then transferred to the floor and from the floor into the home theater space. This occurs when the home theater structure has not been properly decoupled from the rest of the home. Footfall can also include other vibrations from the home. These sounds can be very distracting to those watching a movie for not only can they be heard, but, they can also be be felt in certain situations. Footfalls are measured by a rating called IIC (Impact Isolation Class). Conversely, your wife would not be pleased to have the sound of an explosion or helicopter engine rumbling through the floor of her foyer, great room or kitchen. Proper isolation of your home theater and protection of your family from exposure to unwanted sounds and vibrations cannot be accomplished unless certain isolation building materials and products are specified and professionally installed.
Recommended Sound Isolation Building Materials and Products
Dedicated Home Theater construction may include: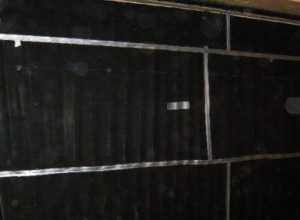 Sound-Bloc
Sound-Bloc is a 1/8" thick flexible vinyl sound barrier material that is placed behind a finished drywall surface during new construction or in a renovation. Its dense composition creates a barrier within the theater shell, and reduces the amount of sound that escapes to other areas of the home. Sound-Bloc's effectiveness is dependent upon proper wall construction and the building materials that are used in conjunction.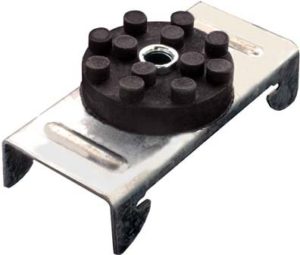 Isolation Clips and Isolation Channels
Isolation Clips and Isolation Channels are designed for use with various wall or floor-ceiling designs and applications to reduce the effects of impact resonances transferred through theater ceilings and walls. By decoupling the drywall from the stud and/or joist structure, Isolation Clips and/or Channels are able to reduce the noise transfer by up to 75% between the interior and exterior wall assemblies, creating an isolated "shell" within the theater. If used alone, Isolation Clips increase the STC rating of the wall or ceiling structure by 15-20 points. When used in conjunction with Sound-Bloc wall barrier material, they provide the ultimate solution for your soundproofing design, reaching nearly a 47 STC rating.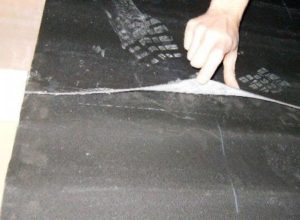 Floor Shield
Floor Shield is a sound barrier material created specifically for use under laminated and hardwood flooring or carpeting to reduce the amount of low frequency sounds that travel through the theater floor to the rest of the home. Not just a sound blocker, this material also removes unwanted "creaking" sounds within the floor, by providing a flexible impact shield underneath the floor surface.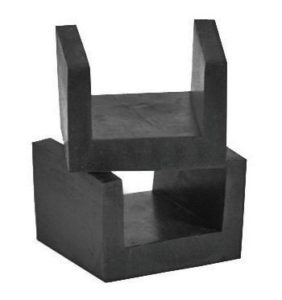 Resonance Blocks
Resonance blocks are designed to create a more lively listening experience when watching a movie, so that the listener feels the "booms" and "thumps" in perfect timing with what is shown on the screen. When these effects are delivered with even the slightest delay it is perceived by the human ear as being out of sync, a phenomenon often blamed on poor acoustics or the audio processor and speaker system being used in the theater. These delays are actually caused by reflected sound waves that accumulate within the platform cavity itself, this creates pressure that quickly turns into annoying vibrations and rattles that are technically know as resonances. Resonance blocks reduce the effects of these resonances by decoupling the platform from the ground floor and adjoining walls. These affordable rubber channels cradle the wood framing, lifting the structure up just ¼" providing an escape for these built up sound pressures. In addition, isolation block's dense composition acts as an impact absorber, which removes the likelihood of experiencing anything beyond what the director intended within a movie sound track.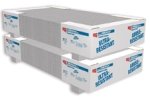 Sound Rated Drywall
Sound Rated Drywall is more effective in isolating sound than standard drywall when used in the construction of new or remodeled dedicated home theaters. A single layer of the leading sound rated drywall outperforms the sound proofing ability of multiple layers of standard drywall.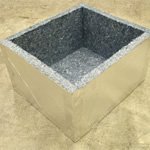 Lighting Echo Boxes
Lighting Echo Boxes are designed to reduce sound transmission through your recessed lighting fixtures. They maintain the acoustic rating of your ceiling, while allowing you to use recessed lighting in your theater room. The echo box is affixed to the joist with mounting clips and sealed with Green Glue noise-proofing sealant to decouple the box from the ceiling. These products when used in conjunction are extremely effective in sound isolation.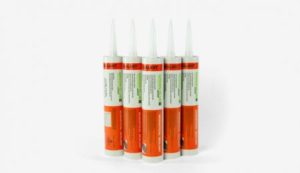 Green Glue Noise-Proofing Sealant
Green Glue noise-proofing sealant is a water based, non VOC acoustic sealant that can be used to plug up gaps and leaks in walls and ceilings, to seal edges and joints and under your theater's base plates to prevent noise leaks. Appling this sealant in your theater can isolate sound by as much as 30db.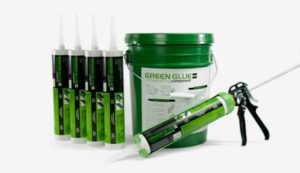 Green Glue Noise Proofing Compound
Green Glue noise-proofing Compound is an environmentally friendly dampening product that is used for new construction and renovation projects. It acts as a dampening material and can dissipate up to 90% of the vibrations caused by sound waves as they travel through ceilings, walls and floors. This compound is ideal for dissipating low frequency noise common with home entertainment and theater systems.
Call us Today for your Free In-Home Design Consultation (248) 642-9777