Controlled Lighting and Shading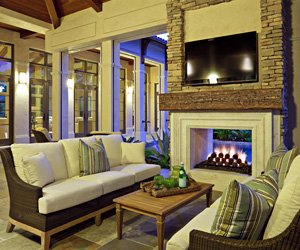 Controlled Lighting and Motorized Blinds, Shades and Draperies
A Gramophone Home Theater Controlled Lighting System is the perfect complement to your home. It highlights the architecture and the finer elements of your home's environment.
Programmable lighting scenes will help you create a true expression of your design style and sense of space.
Controlled lighting systems offer you total control of every light, both inside and outside of your home.
Remote Operations
A Gramophone Home Theater controlled lighting system will also allow you to program and/or remotely operate your Motorized Blinds, Shades and Draperies to allow the maximum amount of natural light to accentuate your home or to minimize the amount of sun light in order to protect your valuable home furnishings from over exposure to the harmful rays of the sun.
Control Home Lighting and Shading Centrally
Control Lighting and Shading Scenes throughout your home from a programmed backlit keypad or a color touch screen control panel.
Gramophone Home Theater can program your system to automatically activate preset lighting and shading scenes. We can adjust for changes in natural daylight, including day light savings time and activate specific lighting and shading scenes to coincide with the arrival of twilight. This will maintain your privacy and increase your security.
Security can also be increased with the use of a 'Vacation" preset. With the single touch of a button your normal lighting and shading patterns will repeat automatically giving your home a normal lived in appearance during your vacation.
Car Visor Lighting Controller
Activate your home lighting scenes remotely from your car with a Gramophone Home Theater Car Visor Lighting Controller. Open your garage door and automatically engage your garage security and pathway lighting. You and your family will never enter a dark room or walk through an unlit hallway again. We can preset path lighting from the front door or garage to your master suite, children's bedrooms or to any room in your house.
Wireless Lighting Controller
Place a Wireless Lighting Controller on your nightstand. This will allow you the convenience to put the entire home to bed with the single press of a button, or slightly illuminate the bathroom and/or hallway lights to create a safe pathway without disturbing other members of the family.
Control Outdoor Lighting
We can Control Outdoor Lighting with preset automated lighting scenes for your front gate and driveways, porch and patios, architectural landscaping and pathways, pools, spas and other areas.
These scenes can be interfaced with astronomical time settings patterned to accommodate your family's lifestyle.
You will never return home to an unlit driveway or entrance again. Even when all the porch, patio, landscape, pool and spa illuminations have been turned off, the front gate, driveway and security lighting will remain on until daybreak.
The Ultimate Connected Home
These lighting and shading systems can also be conveniently controlled either locally or remotely from a computer, iPhone or iPad. By presetting lighting output to conserve energy consumption and coupling that with heating and cooling energy savings from preset shading scenes, these systems can increase comfort, are cost effective and energy efficient. Controlled Lighting and Shading systems go hand-in-hand with Security and Surveillance. This helps to promote a safe and secure environment. Automated Lighting and Shading Truly Offers The Ultimate Combination of Convenience, Comfort, Efficiency, Safety and Security.
We carry controlled lighting and shading products from:


Call us Today for your Free In-Home Design Consultation (248) 642-9777