Power Management, Line Conditioners and Uninterruptible Power Supplies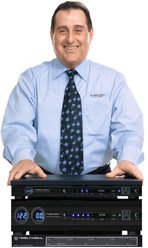 The experienced staff at Gramophone Home Theater recommends:
Power Management and advanced surge protection to isolate and protect your valuable electronics from exposure to dangerous electrical surges and spikes.
Line Conditioners to improve picture and sound quality through noise reduction and line filtering.
Uninterruptible Power Supplies to guard against loss of valuable information during power interruptions and/or electrical failure.
Protect Your Equipment
Gramophone Home Theater offers a wide variety of surge and spike protectors, line filters and conditioners and uninterruptible power supplies designed to protect your equipment from exposure to the electrical problems and interference that exist in the average home environment.
We carry surge and spike protectors, line filters and conditioners and uninterruptable power supplies from:


Call us Today for your Free In-Home Design Consultation (248) 642-9777