"Home Theaters are a great place for you to escape from the pressures of day to day modern living, entertain friends and bring your family together"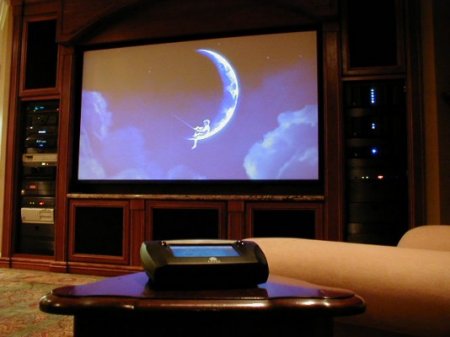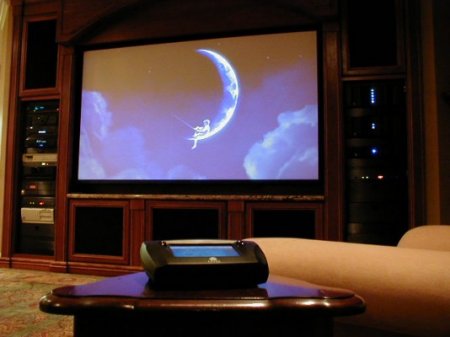 Unfortunately, the term "Home Theater" is one of the most over used and least understood expressions in the home electronics industry. Because of this phenomenon, many people would like you to believe that they have cornered the market and become the guru of the home theater world. Just because appliance stores, and inter-net chatter say so, that doesn't mean that they understand the meaning or purpose of a home theater. In fact, many of these people have never even had a true cinema experience, yet, they expect you to follow their lead. After designing, building and installing home theaters for over 40 years, Gramophone Home Theater has a clear understanding of what the expression "Home Theater" means.
A Dedicated Home Theater is the ultimate place for you, your family and friends to relive the fantasy, romance and adventure recreated by the true cinema experience. Whether you're looking for amusement or seeking refuge from your daily routine your dedicated home theater is the perfect destination.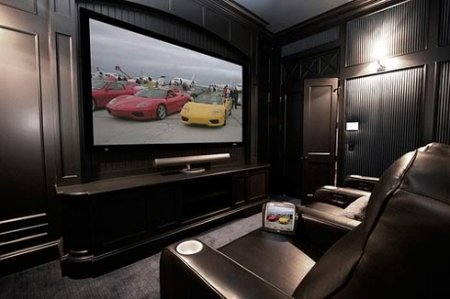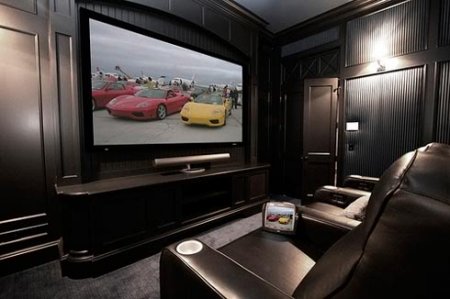 Many people would like you to believe that placing or hanging a big screen TV in an enclosed spare room with a couch and/or easy chair is the definition of a dedicated home theater.
Dedicated to watching movies, major sporting events and gaming
Includes acoustical sound treatments and controlled lighting
High definition large sized TV and/or movie projector and screen
Gramophone Home Theater's Definition Of A Dedicated Home Theater is a room that has been dedicated and designed for the primary purpose of viewing movies, watching major sporting events and gaming. This theater room would include: acoustical treatments and soundproofing (if necessary), a high definition large sized TV and/or movie projector and screen, expertly placed home theater surround speakers and subwoofers, matching audio and video electronics, controlled lighting and a learning remote control device. The Dedicated Home Theater actually delivers "The Live Sporting Event" and "True Full Dimensional Digital Movie Theater Cinema Experience" directly into your home.
"Rick and his team from Gramophone Home Theater have worked with me over the years to set up my home theater and to keep it working smoothly and to keep it up to date with the new technology trends. Rick took the time to understand my needs and desires, and offered me many options to work within my budget and my theater room layout. The equipment he recommended is very high quality and has served my family well for many years. His technical team is expert and friendly and goes the distance to make sure we know how to operate the system easily. My wife, kids and especially my grandkids love the movies and shows we enjoy with our movie projection system, surround sound and ten-footcinema wide movie screen. And of course, they love the popcorn machine that is a MUST for almost every event!"
Thanks for the good work Rick
John,
Bloomfield Hills
Nancy and I have been buying audio and video equipment for our home and business from Rick and Gramophone Home Theater for over 20 years. During that time, Rick and his team have installed a high end home theater in our great room and a home theater and controlled lighting system in our lower level family room. Then Rick installed a wall of TVs in the restaurant in our golf club.
Three years ago Rick and his team updated the TVs at our club and modified the existing custom cabinetry to accommodate the newer flat HD TVs. Recently, we added a large 4K HD TV in the lounge at the club. Then we had Rick update our systems in our home with the new technology. Rick's team then ran TV cable to our kitchen, master bath and upstairs bedrooms. He even moved our modem/router to improve the Wi-Fi in our house.
We have always enjoyed working with Gramophone Home Theater. They never let us down. When there is an emergency at the club, they will respond quickly. Rick's team is prompt, neat and clean. We are extremely happy with our equipment and their work.
Thanks Guys,

Gary & Nancy,
Bloomfield Hills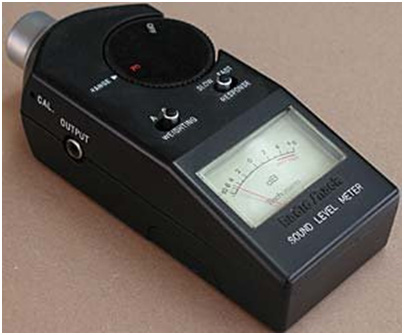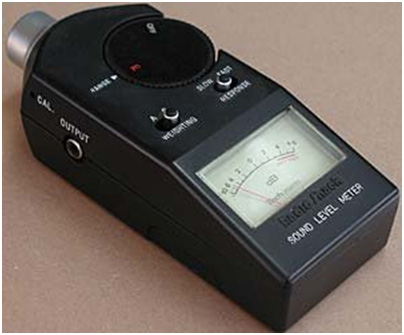 In order for you to recreate the desired home theater experience your audio and video surround system should be Professionally Set-Up, Calibrated and Equalized to your home theater space.
Step One – Evaluate the Area
This includes room size and shape (cubic area), location of the primary seating and general acoustical room elements (flooring and/or carpeting, draperies, furniture finishes and wall and ceiling surfaces). These measurements and acoustical elements can negatively effect sound frequencies and create unwanted reflections that can affect the acoustical performance of your home theater.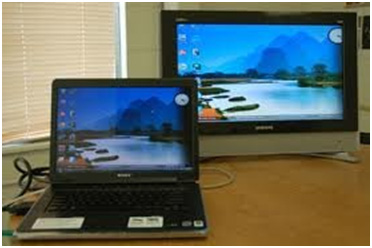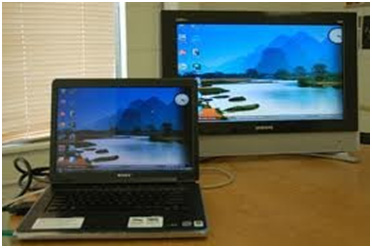 If you want to get the most out of your new video display device whether it's LCD, LED, Crystal LED, OLED, Plasma, DLP, Laser Rear Projection or CRT, it should be Professionally Set-Up and Calibrated.
True Calibration means that the internal color temperature (gray scale), black level, contrast and convergence of your video display device is set as close to or at the standard for televisions established by the National Television Standards Committee (NTSC). Most people wonder why a brand-new TV would need to be adjusted and/or calibrated. Basically it's because, in the competitive space of an appliance or big box store showroom, it's the brightest pictures that attract the most buyers. It's these brighter, snappier pictures that call attention to themselves on showroom floors. However, once you get your TV home, those overly bright settings may actually obscure detail, over saturate color temperatures affecting color accuracy and potentially shortening the life span of your TV.
We get a lot of questions about "Wire and Cabling" at Gramophone Home Theater.
And, there is a lot of confusion out there regarding wire, so here are some facts from the world according to Rick regarding wire and cabling.
One of the most interesting questions we get a lot is "does wire actually make a difference?" This is one of the easiest questions to answer, of course it does! If you think about this for even a moment you will realize that wire has to make a difference.
First, consider that all of the audio and video information has to travel through not one, but several wires, getting from your source, to your control, through your amplification and finally out to your speakers. Wire is also very likely to be the only passive element in your system; it is not powered or amplified and has no controls of any kind. So if you think about it; the only thing wire can actually do is screw things up! It does not have the ability to fix things does it?
1. Because We Have Been Selling And Installing Home Entertainment Systems Since 1976
2. Because We Created Michigan's First Custom Design And Home Electronics Installation Company.
3. Because We Have Been Nationally Recognized For Over 30 Years As One Of The Top 20 Audio / Video Retailers In The Country
4. Because You Can Buy Direct And Save In The Comfort Of Your Home
5. Because We Offer The Best Price In Michigan … Guaranteed
6. Because We Offer Free In-Home Evaluation … Guaranteed
7. Because We Offer Free In-Home Design Consultation … Guaranteed
8. Because We Offer Free In-Home Estimates … Guaranteed
9. Because Our Equipment and Installation Proposals Include:
Your new equipment
System instruction and product training for you and your family
Installation of the new components
A custom programmed radio frequency learning remote control for simplified operation and command of your components
Premium wiring and cables to ensure excellent picture and sound quality
A surge/power management device to protect your system in the event of a power surge
Maintenance products to extend longevity
TV and component calibration to maximize system performance
Listening room equalization to reproduce the feeling of a live sporting event and the thrill of a true cinema experience … Guaranteed
10. Because We Offer Free New Equipment Testing To Certify Product Performance … Guaranteed
11. Because We Offer A Free Lifetime Installation Limited Warranty: Gramophone Home Theater assigns to the original purchaser a Free Lifetime Warranty against defects in workmanship in its installation of the equipment. The customer's remedy under this warranty is limited to Gramophone personnel correcting the defective workmanship at no cost to the customer … Guaranteed
I have been buying audio and video equipment from Rick Howard, owner of Gramophone Home Theater, for many years.
I bought my first high end audio product from Rick 25 years ago and it's still being used in my home theater today. Over the years I purchased a number of components from Rick.
Then, about 6 years ago I met with Rick and his design team. I wanted to make a plan with them to design a state of the art theater in my home. The first part of my new system would be comprised of audiophile speakers and electronics and an entertainment furniture cabinet.
Then, a couple years later I purchased a new subwoofer and some beautiful leather theater chairs.
Recently, I had Rick and his team, upgrade my system and install a 4K movie projector with a special lens and a digital theater level screen with masking. My system looks and sounds magnificent. I couldn't be happier or more satisfied with the equipment that I purchased or the quality of the installation.
Whatever your budget, Rick and his team will work with you to find and install the system that best suits your family's needs. I recommend Gramophone to friends and family. You will find none better.
Ken,
Marysville
Millie and I have been doing business with Rick and his team at the Gramophone for more than 20 years.
We originally purchased a whole house music system and had it installed. The installers did a great job. They were always punctual and neat and clean. The music system worked great and the family had a lot of fun using it.
Later, we purchased TVs and recently we had a new home theater installed. Rick worked with our existing built-in cabinetry and was able to get a much larger new TV to integrate perfectly. The new system looks and sounds fantastic. We asked if they could move the old TV into the office and hang it on the wall. Rick's installers hung the TV and the sound bar and hid all the wires perfectly. We were on a roll now, so we asked Rick if he could install a new sound bar in our existing master bedroom cabinet and add a learning remote control. Mission accomplished.
Finally, we asked if there was some way to get a larger TV installed in our fancy new kitchen cabinetry. Rick figured out how to install the TV and match our stainless steel appliance cabinetry.
We are extremely happy with Gramophone and their team of experts and we know they will answer any questions we have and teach us how to use our new equipment. We recommend them to all our friends. Thanks guys!
Mort & Millie,
Bloomfield Hills
Recommendation for Rick Howard, Gramophone
First met Rick in early 2006 when I was renovating my Beverly Hills home. He and his team installed a family-room system with state-of-the-art equipment. The real value is how they solved a technical issue and running 40-50 feet of cable though ceilings and walls to encapsulate everything in cabinetry (no wires visible)…still perfect today!
There have been two additional projects (2010 and 2016) since, to include a game room, basement theater system, 4K smart TVs and whole-home Ethernet cabling. In every case, Rick's team was timely, neat and tidy. They are not satisfied till everything is perfect and you, the customer, are successfully running your new system.
I highly recommend Rick and his Gramophone team for any TV or Home Theater project. You are guaranteed to have the latest and best system. And, he will stand by his work for years to come.
Mark,
Beverly Hills
When we purchased our home two years ago we had a theater room with outdated equipment and a whole house speaker system with no idea how to use it or set it up.
We contacted several audio companies to get proposals and ideas where to begin.
Rick Howard at Gramophone Home Theater was, hands down, the most knowledgeable and helpful. He guided us as to what was necessary to replace and what equipment could be saved.
Their installation team, especially Cliff, was excellent. They were very thorough and neat. The system has worked excellently and when we needed a little help it was always forthcoming. I believe the cost was reasonable and we would call Rick again if we ever decided to add more equipment.
One extra note, if you don't currently have an updated system and you want to buy new equipment, they will guide you through how to use your new system.
Chuck,
Birmingham
Call us Today for your Free In-Home Design Consultation (248) 642-9777